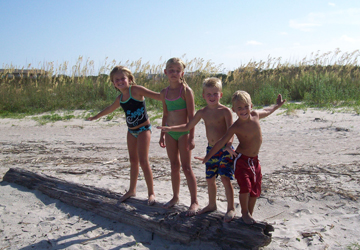 It's very gratifying for us when we see our visitors enjoying River's End Campground on Tybee Island and near Savannah, Georgia. Here are five recent reviews from Yelp and Trip Advisor:
"We stayed at Rivers End Campground for a weekend and it was fantastic!! It was the best location on the island. Close to the beach on the Atlantic and even closer to the beach at the mouth of the Savannah River. We went to both but liked the beach on the river the best. The campsite was level and easy…"
South Carolina, Trip Advisor
"This is our fourth visit in a class c motorhome. We enjoy the quiet atmosphere along with the pool and the close proximity to the beach. We rent a golf cart while we're here. The Tybee Taxi will also take us anywhere on the island for $3. Customer service is wonderful here. Level gravel lots with paved streets."
Lisa H, Trip Advisor
"Loved this campground. Sites are close together, but you're on an island! Even so, when blinds are pulled at night you wouldn't know it. Very clean and quiet campground the time we were there. Bathrooms in good locations and clean. Short walking distance to beach, lighthouse, a restaurant (that was a thumb's up too)."
Gatekeeper77, Trip Advisor
"This is a beautiful well-kept RV facility. It is close to all the area sites. We have enjoyed our stay and will be back next year. The staff are very friendly."
James H, Virginia, Yelp
"This is an excellent little park. Sites are decent sized, and though close together we didn't feel right on top of our neighbors. Amenities are *nice*: strong wifi, good water pressure, excellent cable reception with a wide choice of channels. Staff were accommodating and pleasant. The little welcome package they put together with our name on it really made us feel like wanted guests."
Mark M, New Jersey, Yelp
About River's End Campground
Enjoy Savannah and Tybee Island from the central location of River's End Campground and RV Park. All of the amenities of River's End are yours to use while you're here. Visit our reservation page or call 912-786-5518 to book the trip of a lifetime!