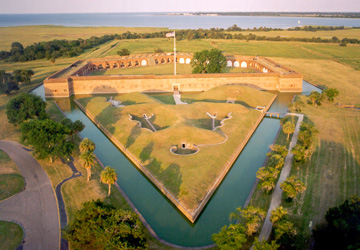 When you come to River's End Campground on Tybee Island, consider visiting Fort Pulaski.
Cockspur Island is between Savannah and Tybee Island. This spit of land is famous for the Cockspur Island Lighthouse and Fort Pulaski also known as Fort Pulaski National Monument.
In 1862, the Union Army used tested the rifle cannon in combat on Fort Pulaski. This rifle cannon fired from an astonishing four to five miles with a fair degree of accuracy. The success of the test quickly made brick fortifications obsolete. The onslaught of 36 guns resulted in the breach of one of the walls and the eventual surrender of the fort by the Confederate occupiers who sustained just one injury.
After the Union stopped the shipping from Savannah and held the fort for a few years, it eventually became a Confederate prison housing the Immortal Six Hundred. These were 600 Confederate officers held prisoner by the Union Army because they refused to take an oath of allegiance to the United States.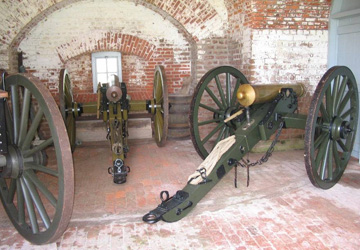 In 1933, after a period of disrepair, the War Department declared Fort Pulaski a national monument. The museum opened in the 1980s.
Interestingly enough, the fort was used in the filming of the Conspirator, a Robert Redford movie about the assassination of Abraham Lincoln. Another Lincoln themed movie, the 2012 film, Abraham Lincoln vs. the Zombies, was also shot there.
Fort Pulaski is a popular destination for Tybee Island and Savannah visitors. The fort responds by offering several free admission days throughout the year.
About River's End Campground
Enjoy Savannah and Tybee Island and visit Fort Pulaski from the central location of River's End Campground and RV Park. Enjoy all of the amenities of River's End while you nestle into your full hookup RV site, primitive campsite or snuggly cabin. Visit our reservation page