Searching for sunny skies, family-friendly entertainment and the best vacation yet? Come out to Tybee Island this month and relax at River's End Campground and RV Park. We're just a short drive from Savannah!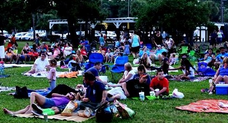 How does free sound? We thought so. Come out to Movies in the Park Saturday, July 18 at 8:30 p.m. for a free screening of Big Hero 6. This heartwarming film by Disney Pixar tells the story of a bond between a child prodigy and his loving robot. The two team up with unlikely heroes to defeat some high-tech villains. Do they have what it takes to overcome evil geniuses? Come find out!
The movie play at Memorial Park from 8:30 – 10 p.m. Pull up your favorite blanket or lawn chair and munch on some popcorn! Be sure to bring any other food or drinks you'll want during the movie. Then come home and kick back at River's End Campground and RV Park. You'll enjoy close access to the beach, plus Tybee Island's host of local eateries, exciting attractions and family-friendly events. Call us today to book your summer vacation, and we'll save you a cozy site!
Relax With Us
Kick back this summer at River's End Campground and RV Park, located near Savannah, GA. Choose one of our cozy camping cabins or RV sites as an affordable alternative to staying in a hotel. Visit our website for more information about our camping accommodations, or call 800-786-1016 to make your reservation. Be sure to like our Facebook page!