River's End Campground on Tybee Island in Georgia, where the River's End Campground is located, is truly a geological wonder. Capable of awe-inspiring serenity and mammoth storm rage, the forces of the Atlantic that formed our island are worth a look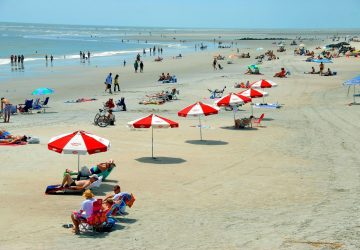 Ringed by short, wide barrier islands with deep tidal inlets the Atlantic produced extensive sand shoal systems around the islands. Tybee Island is one of the eight island groups lining the coast between Savannah and St. Mary's rivers and one of only three developed islands. These barrier islands protect the mainland from the worst of major storms and hurricanes but there is no such protection for the islands.
The Golden Isles
Known as the Golden Isles, the islands are made up of dune and beach ridge sands forged by the sea, wind waves, current and sand supply. About 5,000 years ago the barrier islands began to form to near their present shapes shaped by the sea level rise from three feet per century to less than a foot per century.
The Tides
The tide's twice-daily ebb and flow remains the dominant natural process along the Georgia coast. The concave shape of the shoreline and a broad, shallow continental shelf results in low wave energy with heights averaging from two to less than four feet at the breaking point. However, the average tidal range of higher than six feet brings sediment into the back barrier areas, causing the slow buildup of the tidal marshlands.
But we don't need to get that technical to enjoy the ebb and flow of the Atlantic Oceans as it hugs our little island. It's beautiful no matter how it was formed!
Merry Christmas and a Happy New Year!
---
About River's End Campground
Enjoy all of the amenities of the beaches of Tybee Island at River's End after parking at your full hookup RV site, camping or renting a rustic cabin. Visit our reservation page at www.riversendcampground.com or call 800-786-1016 to make your Tybee Island RV Park reservation.