Happy New Year from River's End Campground and RV Park! We hope you have a fantastic holiday with friends and family. We're doing a little bit of construction, so pardon our progress.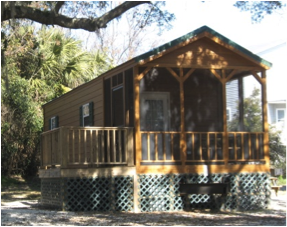 New, exciting things are coming to River's End in 2015. We are currently completing two new cabins that will be ready by the end of March. The new primitive tent sites will be available near Memorial Day, so plan your visits now. Stay tuned to our website and blog for updates to our construction progress. You can also follow us on Twitter and Facebook.
Thank you for all of your patience with our construction. As you fill up your calendars for 2015, make sure to pencil in some family fun and relaxation. River's End Campground and RV Park is located on Tybee Island – a hotspot for water sports, beach time fun and fishing. Come by for the beaches, and stay for the restaurants, live music and rich history. River's End Campground and RV Park is your family destination for 2015.
Stay With Us
Book your 2015 vacation now at River's End
Campground and RV Park, located on Tybee Island. Choose one of our cozy camping cabins or RV sites as an affordable alternative for your family vacation. Amenities in the park include free Wi-Fi, a swimming pool, a dog park, and a community pavilion. Visit our website for more information about our camping accommodations, or call 800-786-1016 to make your reservation. Be sure to like our Facebook page!