Many River's End Campground visitors come to enjoy the beaches of Tybee Island, GA. But, what about when the rip currents that accompany tropical storms are in effect?
During Tropical Storm Colin, and all other storms, Captain Todd Horne of Tybee Ocean Rescue says, "We basically don't want people in the water." While heavy rains like the ones experienced during Tropical Storm Colin, kept most people off of the gorgeous Tybee Island beaches. The red flags flown by the lifeguards also meant a high risk for rip currents.
What are Rip Currents?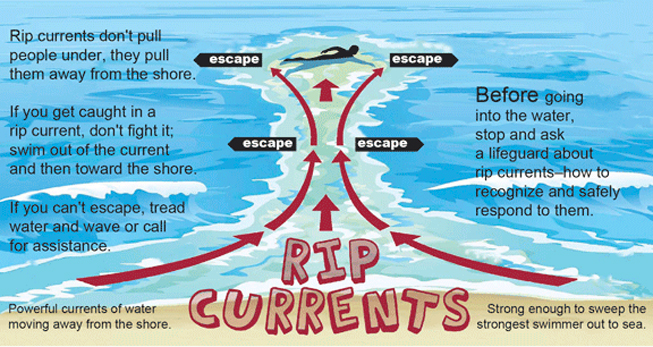 Rip currents are powerful, narrow channels of fast-moving water in the larger body of water, almost like a separate river stream. They are common on the shores of the Great Lakes as well as along the East, Gulf and West coasts of the US.
And boy are they fast! Rip current whiz by at speeds of up to eight feet per second or more than 5 miles per hour, faster than most Olympic swimmers (for example, famed Olympian, Michael Phelps top swimming speed was 5.25 to 6.0 mph). Often, panicked swimmers try to fight a rip current by attempting to swim straight back to shore. However, this puts the swimmer at risk of drowning because of fatigue.
Lifeguards across the US rescue thousands each year who get caught up in a rip current and about 100 individuals are killed by rip currents.
Remember, if you feel yourself being swept away by a rip current, don't fight it. Swim with it parallel to shore and ease back to land on an angle.
About River's End Campground
Rain or shine, enjoy summer at River's End Campground and RV Park, located on Tybee Island near Savannah, Georgia. Choose a full hookup RV site, a cozy cabin or a rustic campsite that includes access to all the amenities of River's End Campground. Visit our reservation page or call 800-786-1016 to make your Tybee Beach camping trip reservation.
*Photo courtesy of www.tybeemarinescience.org