One of the joys of driving your RV to River's End Campground is visiting Tybee Island. One of the thrills of coming to Tybee Island are the five public beaches:
South Beach (the hot spot)
Mid Beach
North Beach
River Beaches (the Savannah River Beach and Back River Beach)
Please obey the following beach rules so everyone can enjoy a day at the beach.
What's prohibited on Tybee beaches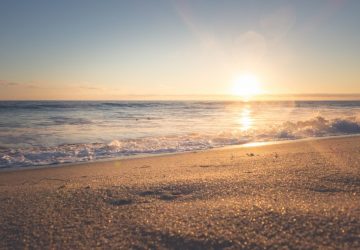 Pets, fires, glass, kegs, nudity, disorderly conduct, overnight sleeping / camping, climbing on jetties and rocks, swimming and fishing in undesignated areas, disturbing dune vegetation and walking in the dunes, jumping or diving from the pier or other public structures, removal of live marine life, littering, and unauthorized motorized vehicles.
These rules are enforced with a maximum fine of $1,000!
Guidelines emphasized include:
Swim in designated areas. It is unlawful for any person to swim outside of the area extending 50 yards from the water's edge.
Put litter in trash bins. Beach goers must contain their trash at all times.
No glass or breakable containers on the beach.
No pets. Dogs and other animals are NOT allowed on any of Tybee Island's beaches.
No beach fires including any type of charcoal fire in a grill or similar container.
No surfing or fishing in unauthorized areas.
Obey lifeguard commands.
---
Still, these beaches are the reason many come to Tybee Island and they are truly a gift to those who are drawn to the ocean. As JFK said about the sea:
"I really don't know why it is that all of us are so committed to the sea, except I think it's because in addition to the fact that the sea changes, and the light changes, and ships change, it's because we all came from the sea.
And it is an interesting biological fact that all of us have in our veins the exact same percentage of salt in our blood that exists in the ocean, and, therefore, we have salt in our blood, in our sweat, in our tears.
We are tied to the ocean. And when we go back to the sea – whether it is to sail or to watch it – we are going back from whence we came. Remarks at the Dinner for the America's Cup Crews, September 14, 1962."
---
About River's End Campground
As part of your vacation to Tybee Island, head to one of Tybee Island's five premier beaches while staying at River's End Campground! No RVs, no worries! stay at a primitive campsite or a rustic cabin by visiting our reservation page at www.riversendcampground.com or by calling 800-786-1016.