Summer is nearly here, so it's time to come to Tybee Island! Enjoy the beach and float for a great cause. Stay at River's End Campground and RV Park and have close access to all the fun!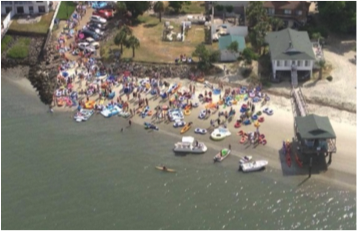 The Tybee Floatilla "Float For A Cure" taking place on June 14, 2015 at 1:30 pm. benefits the Leukemia and Lymphoma Society. Shake off the summer heat and float leisurely down the Tybee Island rivers on an inner tube. There aren't any time constraints, so you're truly on your own schedule! Have a blast with family and friends. Children must be at least 5 years old to float, and must be good swimmers.
Parking for this event is available at the meters on the south end of the Island. A shuttle will take you back to your vehicle after the float. Feel free to bring your own water and food, but no glass or kegs. Alcohol is permitted but discouraged.
The Leukemia and Lymphoma Society is the largest voluntary health organization that researches cures and treatments for blood cancer. The society has made many blood cancer advancements that are saving thousands of lives.
After you've had a fun day of floating, head back to River's End Campground and RV Park and stay as long as you'd like!
Stay With Us
Soak up the sun and relax beachside in Tybee Island. River's End Campground and RV Park is located on the Island, near Savannah, GA. Choose one of our cozy camping cabins or RV sites as an affordable alternative to staying in a hotel. Visit our website for more information about our camping accommodations, or call 800-786-1016 to make your reservation. Be sure to like our Facebook page!