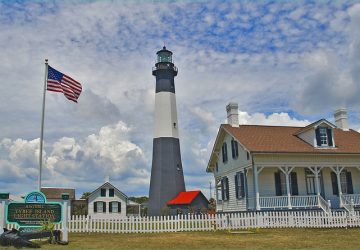 Visit River's End Campground in Georgia to bask in the history of Savannah and Tybee Island and have a good time doing it!
Below are some interesting facts about our island:
Elvis Lives! An interesting claim to fame is that one of the largest paintings in the world was created on the North Beach parking lot of Tybee Island. The 76,726 square foot painting is of the King and is recorded in the Guinness Book of World Records. Students of the Savannah College of Art and Design painted it in 1995.
Endangered sea turtles use Tybee Island beaches as an important nesting areas. The turtles come back each year to lay eggs from May 1 to October 31.
For all you birders, the official bird of Tybee Island is Painted Bunting.
During its history, Tybee Island has flown under six different flags!
Many of the historic buildings on Tybee Island date back to the Civil War.
In 1736, the first Tybee Island lighthouse was built. At 90 feet, it was the tallest US structure at the time.
The barrier Tybee Island is the easternmost point in Georgia.
The permanent population on the Island is just under 3,000 according to the 2010 census.
The US Air Force dropped a 7,600 pound nuclear bomb near the island during a failed military exercise in 1958 that resulted in two planes colliding. It did not detonate and has never been found.
During the 1500s, pirates often used the Island to evade pursuers.
---
About River's End Campground
Enjoy historic Savannah and Tybee Island at beautiful River's End Campground and RV Park. Enjoy all of the amenities of River's End after parking at your full hookup RV site, camping or renting a rustic cabin. Visit our reservation page or call 800-786-1016 to make your Tybee Island RV Park trip reservation.