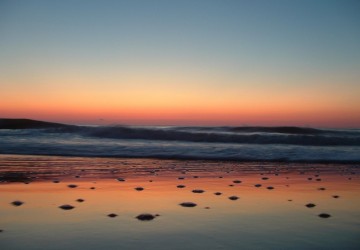 Winter vacations on Tybee Island, Georgia, prove a welcome respite from the brutal snowstorms experienced in the northern and Midwestern states! You'll feel a touch of cool temps, just enough to make the season interesting.
The temperature ranges at our winter vacation destination:
December: Low 43, High 62
January: Low 40, High 60
February: Low 43, High 63

So, plan a getaway to Tybee Island this winter. Along with winter camping at River's End Campground in either an RV site, cabin or campsite, you can experience the great winter activities the area has to offer.

Winter Vacation on Savannah's Beach
You can easily walk the half mile to this spectacular but calm Atlantic Ocean beach. Five miles of pristine beach awaits you for walking, jogging and even biking at low tide. Another great benefit is that the South Beach is right next to the main Tybee Island business areas featuring great restaurants and shopping. Walk the Tybee Pier and Pavilion for an extended ocean view!
If you like to fish, you can fish for drum, whiting, speckled trout and sea mullet. You can also try deep sea fishing for dolphin fish, snapper and grouper on one of the charter fishing boats on the island.

The Holidays on Tybee Island
The island comes alive with lights during the holiday season. Businesses, restaurants and the popular Tybee Island pier are decorated with breathtaking displays of festive lights that add to the season's joy. In early December, see the tree lighting and the island Christmas parade. It is sure to get you into the holiday spirit!
Don't forget New Year's Eve because that's when the Island puts on a spectacular fireworks show from the pier. And if you're feeling particularly adventurous, take the Polar Plunge on New Year's Day by joining swimmers as they dive into the chilly water.
Stay at River's End Campground for your snowbird winter getaway in Georgia and prepare for a lifetime of memories!