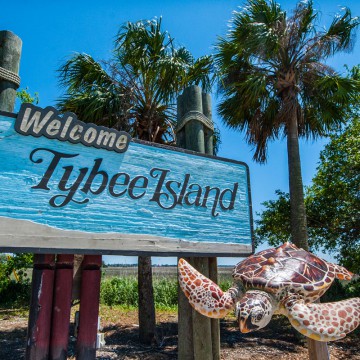 Tybee Island, often referred to as Savannah's Beach, offers visitors a place for all seasons with sandy beaches, great fishing, and rich history at every turn.  River's End Campground is a fantastic home base for exploring it all. We're just a few short blocks from the beach (approx. 1/2 mile) and an easy 15 mile drive to historic downtown Savannah.
We have over 100 sites that offer services ranging from full hook-up capacity with water and sewer and free cable, to water and electric service only, as well as primitive tent camping sites. Some, but not all water-electric sites also have free cable. We offer complimentary Wi-Fi for those who need to stay connected during their stay.
Our goal at River's End is to provide you with a safe, pleasant location where you can relax and meet new friends, and come back year after year.  If that's what you're looking for, please give us a try. We think you'll be glad you did.
---
Camphost Information
"At River's End, our goal is to provide an optimal experience to each guest – every single day."
Welcome! Thank you for your interest in the Volunteer Program sponsored by the City of Tybee Island's River's End Campground & RV Park. As an RVer, you may have noticed that some parks are overnight parks in that they are situated along well-defined travel routes with heavy traffic. Other parks are destination parks in that they offer onsite attractions such as programs, activities, special events, and/or cultural and natural resources to behold. These attractions can be located onsite or in close proximity to the park itself. These define the market audience and the outline of services based upon where the park is, what services are offered, and the regularity/consistency in which they are offered.
Our park is known as a combination park in that we offer both an easy logistic route (I-95 – I-16 East to Highway 80 East) along the path of many travelers and ―snowbirds‖ along with close proximity (3 blocks) from the Atlantic Ocean and miles of beaches, historic downtown Savannah (15 miles with trolley service), vast amounts of Tybee cultural and natural history, and environmental and outdoor pursuits.
Our unique island community offers a diversity of cultural and natural resources and has over the years attracted visitors to learn, to relax, to stretch, to explore, to appreciate, and to find themselves by losing themselves in time gone by. Our campers enjoy living in folklore, while immersed in the everyday grandeur of possibility and wondrous opportunity. Through this Volunteer Program we expect to be able to extend these benefits to many more campers and their guests, and to enrich their visits with more and better services and facilities.
The Volunteer Program is a fun and educational opportunity for you to get involved. By enriching the lives of others, you enrich your own. It will be an experience you will remember for years to come. A task somewhere is waiting to be done; a child somewhere is waiting to learn; weeds are begging to be pulled, a pavilion is begging to be built, etc. In essence, a grassroots initiative cannot be started without the first flicker of hope and the consensus of a shared idea. We offer varied opportunities for volunteers to enrich their lives while enriching the lives of others. We hope this is a program that you cannot resist.